Remove business pain points
For businesses who operate within ATEX designated areas, having a critical communication solution in place is key - when it comes to worker safety, productivity and efficiency.
But when mobile phones are off limits, physical structures impact coverage, and workers are located across multiple sites, it can be almost impossible to get right.
With an award-winning solution
Introducing TRBOCALL. The award-winning communication and data solution, designed to improve worker safety, productivity and efficiency for your business.
Don't just take our word for it...
We have over three decades of experience when it comes to transforming worker safety, productivity and efficiency. That's why we're recognised for our innovation on a global scale by Motorola Solutions.
Case studies: Real pain points, real solutions
TRBOCALL IMPROVES PRODUCTIVITY FOR LEADING AGROCHEMICAL MANUFACTURER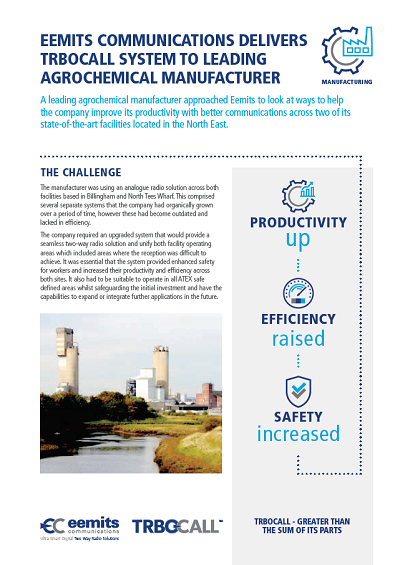 A leading agrochemical manufacturer approached Eemits to look at ways to help the company improve its productivity with better communications across two of its state-of-the-art facilities located in the North East.
TRBOCALL TAKES COMMUNICATION DIGITAL FOR FALCK FIRE SERVICES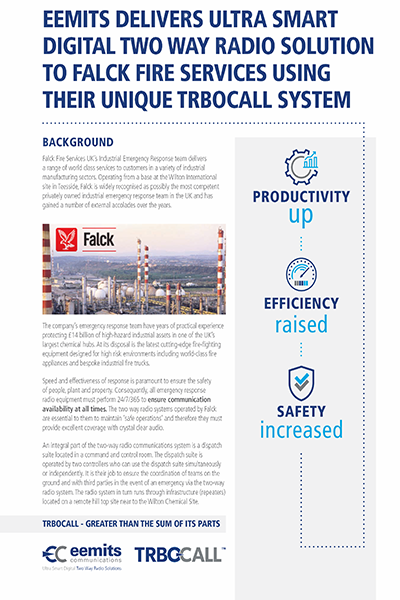 Falck approached Eemits to replace their existing analogue system with a digital one that was capable of delivering high quality audio and exceptional coverage across site to increase safety, productivity, and efficiency for their workforce.
TRBOCALL DELIVERS ULTRA-SMART MISSION-CRITICAL SOLUTION FOR VENATOR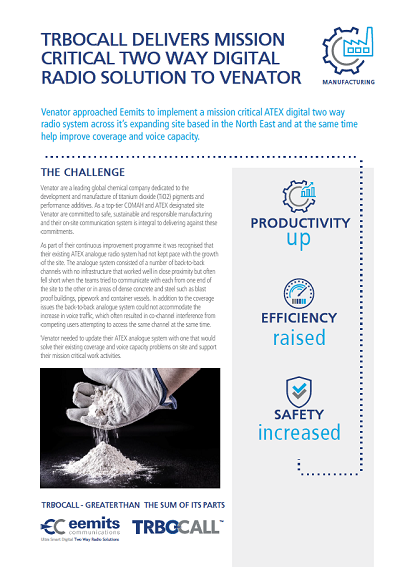 Venator approached Eemits to implement a mission critical ATEX digital two way radio system across its expanding site based in the North East and at the same time help improve coverage and voice capacity.